Follow the steps below to setup Mobicip's powerful web filter on a Chromebook.
Note: If you are a Business or School that purchased Chromebook Management Console licenses, skip to this tutorial - How to Setup a Web Filter on Managed Chromebooks.
Chromebook Setup
1. The very first account used to login on a Chromebook is designated as the 'Owner' account, which has special privileges. You may want to login using your own Google/Gmail account the first time on a new Chromebook to ensure that you retain the 'Owner' privileges.
2. To prevent workarounds, there are couple of things you need to setup while logged in as the 'Owner'.
- Open chrome://settings. Under People, enable Screen Lock option.
- Click on 'Manage other users' and disable guest mode and supervised mode, and add the Google account(s) that you wish to allow on this Chromebook, for instance, your son/daughter's Gmail account.
3. Logout of the 'Owner' account.
Chromebook Parental Controls Setup
Login using the Google account that is to be monitored on the Chromebook, for example, your son/daughter's gmail account.
Note: Chromebook supports the notion of a 'supervised user' which is a built-in limited parental controls feature that is not compatible with Mobicip. You need to be logged in using a Google account in order to enable Mobicip.
1. Click here to go to the Chrome Web Store and install Mobicip.

2. Enter your Mobicip username and password, then select the filter profile you wish to apply to this device.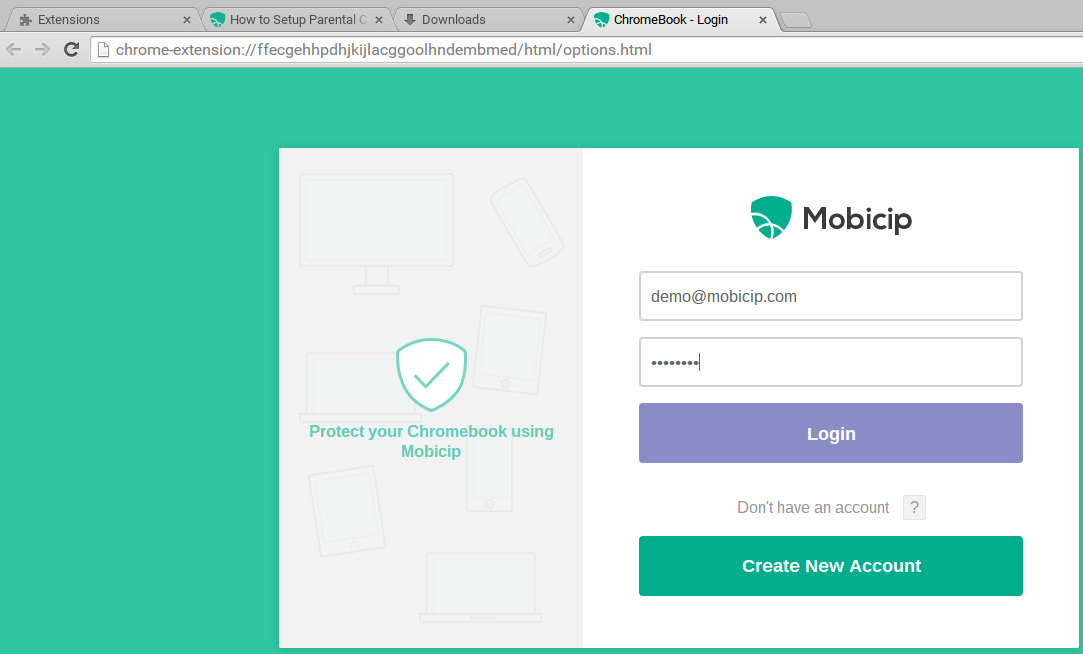 NOTE: If the Mobicip account has only one user profile, the page to choose profile will not be shown.
3. You will see a page with instructions to install a certificate. Complete the steps on this page.

4. Go to chrome://extensions page and tick the "Allow in Incognito" checkbox. This enables Mobicip filtering in Incogtino mode as well.
5. Then make sure that access to extensions page is blocked by clicking on the Mobicip icon and checking the box next to 'Block Extension page' option.
6. Open Chrome settings menu, scroll down and select "Show advanced settings".  Under 'Privacy and security', disable the 'Use a Prediction service to load pages more quickly' option.
7. Right click on the Mobicip icon on the toolbar and select 'Hide in Chrome menu'.
8. Logout of the account on the Chromebook and login again.
That is it! You should be all set. The Chromebook is now protected by Mobicip. Login at mobicip.com from any browser or computer to manage your settings and monitor usage.